With LifeSpan, your technology and electronic assets are handled in an environmentally responsible way, and every possible step is taken to ensure your privacy and security. We are proud to be among the first technology recycling companies to qualify for the widest set of credentials for safe, responsible technology asset destruction, reuse, and recycling.
LifeSpan Certifications Include: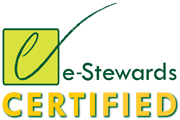 LifeSpan holds the e-stewards certification from the Basel Action Network (BAN), which formally recognizes electronic recyclers that adhere to environmentally and socially responsible practices when recovering hazardous electronic materials.


LifeSpan is an R2/RIOS Certified Electronics Recycler™ – The EPA-Sponsored industry benchmark for proper electronics recycling and reuse.


ISO 14001 – Environmental Management Standard.


LifeSpan is an exclusive AAA Certified member of the National Association of Information Destruction.


As a Microsoft Registered Refurbisher, LifeSpan increases the value of your resold assets and protects you from software piracy liability.