Combining Reuse and Recycling for Profitable Environmental Stewardship
Lifespan's services allow businesses to be environmentally responsible while increasing profit margins
Introduction

Awareness of environmental problems has been on the rise for many decades, especially after knowledge regarding the negative impacts of carbon emissions and resulting global warming became widespread. Businesses have increasingly embraced ecologically responsible practices and comply with many local, national and international regulations. Severe environmental problems, nonetheless persist. One major problem area is that technological progress makes electronic products commonplace and affordable, but unfortunately also obsolete, all at a mind-boggling pace.
In the United States, the recycling rate for small consumer electronics (computers, printers, and mobile devices) is a low 40 percent. Global recycling rates for e-waste are even lower, ranging from 15 to 20 percent.(1) The growing circular economy provides a relatively new alternative to the grey, polluting era of rapid industrialization, and more recently, the problems created by the exponential use of technology products at home and work. While this new model is a response to persisting environmental issues, many businesses are finding that the circular economy also makes good business sense.
What is the Circular Economy?
In contrast to the traditional, throwaway society modeled on a linear economy (make-use-dispose), the circular economy provides a viable alternative to just recycling or worse, excessive disposal and waste. By making reuse a significant part of the product lifecycle, it keeps resources in play for as long as possible. In this model, resource recovery and regeneration follow the maximum extraction of value from the product while it is in use. Sometimes referred to as closed-loop production, in the circular economy recycling and reuse work strategically alongside each other without conflict.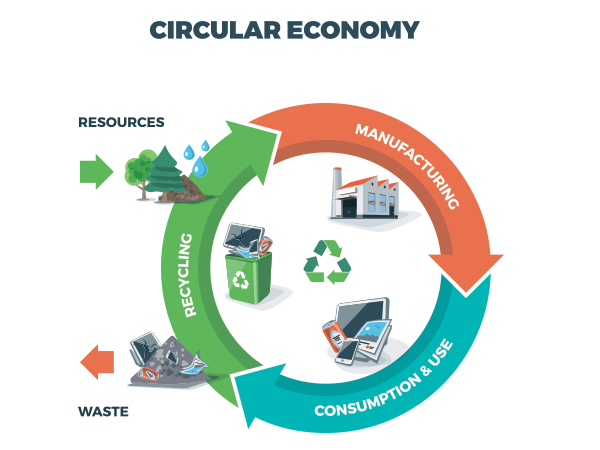 While a transition to the circular economy makes sense environmentally, it also creates the opportunity for increased profitability for businesses. According to a report published by the United Nations University, the value of the recoverable materials in discarded electronics was 52 billion dollars in 2014 alone. This number does not account for the stockpiles of obsolete electronic equipment accumulating in business warehouses and the homes of consumers.(2)
Lifespan Services in The Circular Economy
Lifespan Technologies has been supporting central tenets of the circular economy since 2002. Tactically and strategically combining recycling and reuse, Lifespan I.T. Asset Disposition (ITAD) services are efficient, environmentally responsible, and compliant with EPA regulations. These services include asset retirement, data destruction, tracking, and management. We collect, package, and transport electronics to secure facilities across North America. Products that are reusable go through a rigorous test and audit process conducted in our state of the art repair and refurbishment facility. (Take a virtual tour)
Value recovery that enables our customers to maximize returns on their I.T. investments is at the heart of Lifespan's mission. We are a wholly-owned subsidiary of CDI Computer Dealers Inc., a company that refurbishes over a million products annually. Being part of the CDI group gives us the ability and advantage to deliver the industry's best quality re-certified equipment and ensure maximum returns on used I.T. assets. CDI's certification process is so rigorous that it results in lower failure rates than brand new equipment and guarantees reliability.
Contact us to learn more about how Lifespan can help your organization become a responsible steward of the environment and at the same time, help you recover the maximum value of your I.T. investments.
Website: https://lifespantechnology.com/
Email: info@lifespantechnology.com
Phone: (888) 720-0900
References (1) and (2) http://www.powersourceonline.com/magazine/2017/06/electronics-and-the-growing-trend-towards-reuse-and-the-circular-economy
To learn more about Lifespan's ITAD Solutions please visit:
https://lifespantechnology.com/itad-solutions/