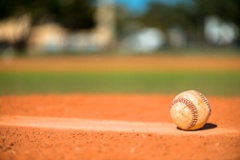 Baseball season is here! It's that time again when we see players cracking bats and covering the bases– all with the ultimate goal of winning the World Series. For those of you in charge of IT asset management, have you considered if you're covering all bases when it comes to IT asset disposition?  You, too, can win big– in terms of value recovery, becoming free from legal liability, adhering to regulations and compliance, and minimizing risk of a data breach.
First Base: Minimizing the Risk of a Data Breach 
A professional and certified ITAD vendor will help you determine the best route to take for equipment disposition based on level of risk, cost, and practices already in place. A vendor that holds a current NAID AAA certification will securely wipe or physically destroy data from the hard drives of your equipment.
Second Base: Meet Compliance and Regulations
By choosing an industry-certified ITAD vendor, you can rest assured that the government regulation NIST 800-88 (and the older DoD 5220.22 M) and your sector regulation (i.e. HIPAA-HITECH, PCI, SOX, etc.) are met. Third-party certifications, like e-Stewards and R2 2013, demonstrate environmental and ethical recycling, along with worker health and safety compliance.
Third Base: Traceability of Assets
Before the decommissioning of assets begins, have a plan of action in place so you're prepared before an ITAD vendor arrives to pick up your equipment. Keep track of the assets so you can have a complete audit trail of the assets before and after pickup. An option is to have your ITAD vendor provide onsite scanning of assets to assist with your asset management tracking.  A validated report can be provided once equipment is received at the vendor's facility, giving you peace of mind and the asset data you need to close out records in your system.
Home Plate: Remarket Value for your Equipment
Choose a vendor that has strong remarketing channels and capabilities to maximize your value recovery.  In most cases, it is favorable to select data erasure over complete destruction of end-of-life equipment. Your organization will gain revenue, allowing for an increased budget that can be used on new equipment or other expenses.